Happy Goals
Habits and Goals Tracker for iOS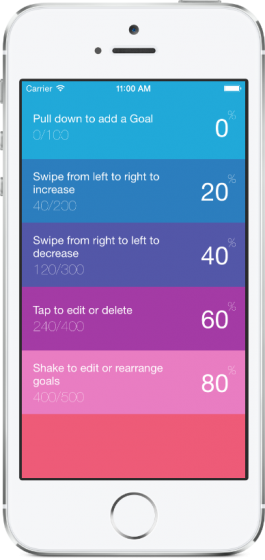 Goals
The goal of this app is simple – to help you achieve your goals! With its simple yet elegant interface that utilizes gestures, you can track your progress in achieving your goals.
User Interface
The app has beautiful and colorful user interface, which not only serves as eye candy but also helps you easily differentiate your goals from one another. No due dates! No complex stuff! No complex screen navigation! Just the info that you need.
Gestures
The app utilizes intuitive gestures such as swipe left and swipe right, as well as pull down, to initiate user actions such as add a new goal, increase and decrease progress of new goal, and many more.
Great app
Let me be honest, i had an idea to make an app like this, that you can see your progresses and get motivated. Well, you guys did it before me, but i'm not sad cuz you guys did a great job. I enjoy it every time a job is done.👍👍👍
Emomili
Am I First?
Great! I love the app! Simplest app to track your goals. A few things they could add, but I love the simplicity.
Once you set a goal you can bump up your progress as you go.
Btw, I don't know the developers at all. I just like the simplicity.
Thanks!
-Levi the friendly app reviewer
Tomuchfor
WHAT AN APP!
So I bought this app by mistake, I didn't want it at all, and I accidentally bought it-.-
Anyways after using it I fell in love with it so now I use it all the time to reach my goals.
RABBiT97CONEjO